This post has won
WOW Badge
from
Blogadda
:)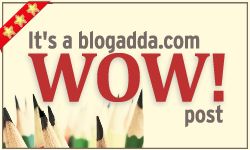 Spring reclaims our joyful mood as winter ends,
Treating us to vivid colours this season sends
Enjoying heavenly floral scent that garden brings
Wealth is seen in all the colours of sweet spring.
Warm winds blow through leafy trees,
Blossoms float down on swirling breeze.
Green surrounds us, wherever we see,
Enjoying the rebirth of earth, revitalized are we.
Gardens start growing, oh thank god its finally spring!!
@Swati
This post is a part of Write Over the Weekend, an initiative for Indian Bloggers by BlogAdda.